CERAMIC SOFTENING FILTRATIONFOR BEVERAGE PROCESSING
Filtered water capacity 4,800 m³/d:
1,680 m³/d (phase 1); additional 3,120 m³/d (phase 2)
Brownfield EPC
Modification of pre-treatment process steps, replacement of pressurized polymeric ultrafiltration
Location: South Africa
In operation since 01/2020
Blended feed water source from municipality and borehole 
Lime dosage for precipitation of calcium and magnesium for hardness reduction (lime softening)
No settling of precipitants – direct transfer to filtration tanks
Dead-end submerged ceramic flat sheet membrane filtration
Activated carbon filters for dechlorination
UV system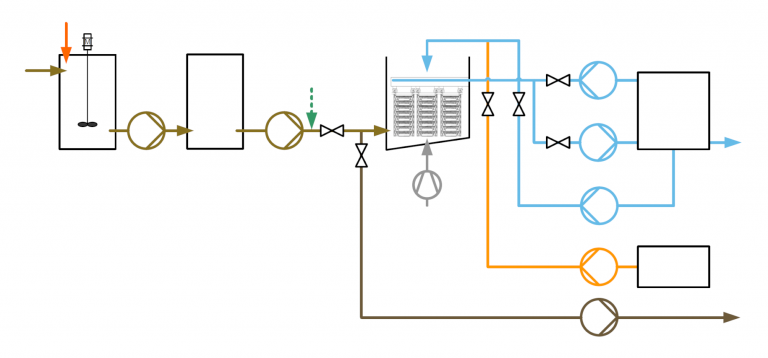 CERAFILTEC WITH 9 TRAINS AND 1×3 TOWERS PER TRAIN
CHEMICAL PREPARATION TANK
CONCENTRATED SLUDGE DISCHARGE
The feed water is a blend of municipal and borehole water. Both water streams have different properties. The overall blending ratio is dependent on water availability and quality. Sudden and strong peak events have led to the damage of the previously installed polymeric membrane system. 
CERAFILTEC's softening filtration process enables operation even with high varying water properties. A small amount of lime is currently being dosed to reach a pH of about 9.6 to reduce calcium hardness only. During peak events, lime is overdosed to reach a pH of about 10.5 to additionally reduce magnesium hardness. In this case, the pH is subsequently adjusted to about 9.6 prior to the ceramic filtration to ensure stable long-term operation. 
Regardless of the total hardness level and lime dosing requirements, all precipitants are directly transferred to the ceramic flat sheet membrane without settling step in between.
| PARAMETER | UNIT | FEED WATER | FILTERED WATER |
| --- | --- | --- | --- |
| T.H. | ppm | 80 (331*) | 26 |
| Sulphate | ppm | 98 (210*) | 82 |
| Silica | ppm | 41 (80*) | 36 |
| TDS | ppm | 365 (421*) | 290 |
| TSS | ppm | 3 (301**) | < 1 (nil) |
| Turbidity | NTU | 0.67 (49**) | 0.17 |
| pH | | 7.6 (9.6**) | 9.6 |
| PARAMETER | UNIT | VALUE |
| --- | --- | --- |
| No. of trains | | 9 |
| Max. flow per train | m³/hr | 36.2 |
| Max. flux rate | LMH | 251 |
| Filtration time | hrs | 4 x 3.93 |
| Backwash time | sec | 4 x 70 |
| Recovery rate | % | 96.1 |
| Power consumption | kWhr/m³ | 0.02 |
   * feed water max values during peak events; ** after lime dosage (inside filtration tank)
T.H.

Feed water 80 (331*) ppmFiltered water 26 ppm

Sulphate

Feed water 98 (210*) ppmFiltered water 82 ppm

Silica

Feed water 41 (80*) ppmFiltered water 36 ppm

TDS

Feed water 365 (421*) ppmFiltered water 290 ppm

TSS

Feed water 3 (301**) ppmFiltered water < 1 (nil) ppm

Turbidity

Feed water 0.67 (49**) ppmFiltered water 0.17 ppm

pH

Feed water 7.6 (9.6**)Filtered water 9.6
*    feed water max values during peak events
** after lime dosage (inside filtration tank)
No. of trains

9

Max. flow per train

36.2 m³/hr

Max. flux rate

251 LMH

Filtration time

4 x 3.93 hrs

Backwash time

4 x 70 sec

Recovery rate

96.1 %

Power consumption

0.02 kWhr/m³