We believe great teams create great things together. We are working hand in hand with developers, EPCs, contractors, systems integrators, OEMs and operators to create outstanding project solutions.
COLLECTION OF PROJECT DATA AND DESIGN REQUIREMENTS
What is the raw water source? 
What are the treatment targets? 
What is the required capacity? 
Greenfield or brownfield project? 
Duty & stand-by requirements?  
These and other information we need to get the understanding of your project to design the right ceramic flat sheet membrane process solution. 
Therefore, simply use our questionnaire and send the completed form to our engineering team.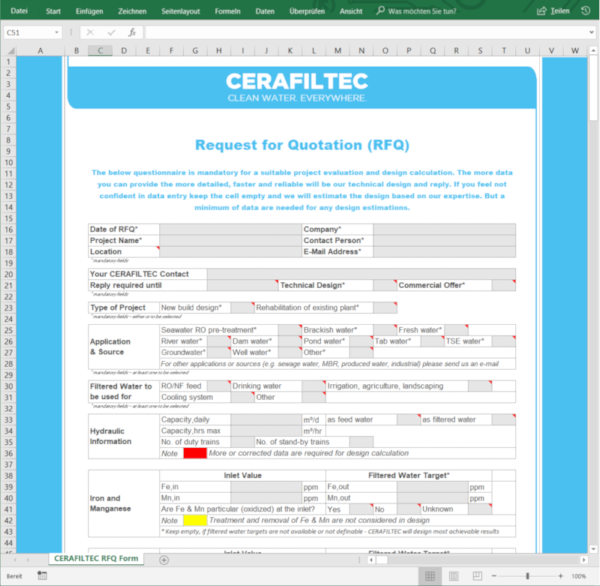 We provide complete project calculation for you to estimate CAPEX and OPEX of the entire ceramic flat sheet membrane filtration process as well as required pre-treatment. 
Project Specifications (input from RFQ form sheet)

General Process Flow Diagram & Description
Flow & Component Mass Balances
Hydraulic Calculation
Filtration & Backwash Process Calculation
Chemical Cleaning Calculation
Main Equipment Calculation
Power Consumption Estimation
Chemical Consumption
Main Equipment Overview
General Process & Instrumentation Diagram
Filtration Tank Design Options
Pre-Treatment Requirements



Civil work structure of filtration tanks
Piping and instrumentation design

Process & Instrumentation Diagram details

Process philosophy
It enables you to implement our filtration step into the plant layout. Once you have completed the overall plant design we review all documents and consult you on construction:
Confirmation of right equipment selection like pumps, valves, instrumentation and pipe sizing prior to procurement
Review of hydraulic profile
Confirmation of overall P&ID
Check of civil work design including site visit for tolerances records (for preparation of installation)
Support on installation of accessory equipment
We provide instruction manuals for assembly of delivered modules and tower accessory equipment (header and base sets).
Our support at site:
Tower assembly & disassembly including training
Training for future maintenance and service work (spare part replacements)
INSTALLATION OF TOWERS INSIDE THE FILTRATION TRAINS
Supervision of tower installation or own installation by CERAFILTEC team
Check of installed air-scouring piping system on tank bottom
Positioning of single towers inside the train
Connection of all related header piping (filtered water and sprinkler system)
Control check – operation of single process steps (filtration, backwash, cleaning procedures) in manual and automated mode
Equipment check – leakage tests via bubble point test
System start-up as per projection (project design package)
Training of operator
FINAL PROCESS SETTINGS, COMMISSIONING AND PLANT HAND-OVER
Pre-treatment adjustment – pH setting and required chemical dosing
Settings and check of filtered water quality and quantity (as per warranty specification)
Automated operation
Training of operator
REPORTS, PROCESS ADJUSTMENTS AND SPECIAL LAB ANALYSES
SCADA remote monitoring of operation and process data
Analysis of data log sheets and provision of frequent performance reports
Process adjustments (if needed e.g. due to raw water changes)
Lab analysis of special parameters (e.g. Ra, TEP, PCB)
TASK

&nbsp&nbspCERAFILTEC&nbsp&nbsp

&nbsp&nbspPARTNER&nbsp&nbsp&nbsp&nbsp

REMARK

Projectspecification

CERAFILTEC provides RFQ form sheetto be completed by partner

Projection(calculation package)

For complete ceramic flat sheet membraneprocess and recommendations for pre-treatment

Structure design of filtration tanks

Concept as draft for partner

Piping and instrumentation design

PID and 2D/3D design concept as draft for partner

Process philosophy

For programming and control (part ceramic process)

Designimplementation

Integration of projection and design concept into complete plant process chain and plant layout

Overall design evaluation & approval (prior to execution start)
Review of complete plant design and confirmation
of correct implementation by complete project team
Procurement/supply electro-mechanical equipment

CERAFILTEC consults: Review of selected equipment
and confirmation of suitability prior to procurement
Supply ceramic filtration towers

Purchase order by partner

Construction civil works andelectro-mechanical equipment

For any clarifications needed during execution
CERAFILTEC team will provide technical support
Ceramic installation preparation

Site visit by CERAFILTEC engineers

Ceramic filtration towerassembly & installation

Supervision by CERAFILTEC (execution together with partner) or own execution by CERAFILTEC

Process start-up

For pre-treatment and ceramic flat sheet process

Commissioning & hand-over

For pre-treatment and ceramic flat sheet process

Operator training

For pre-treatment and ceramic flat sheet process

Plantoperation

Remote monitoring, performance reports, process adjustments & ceramic equipment service by CERAFILTEC